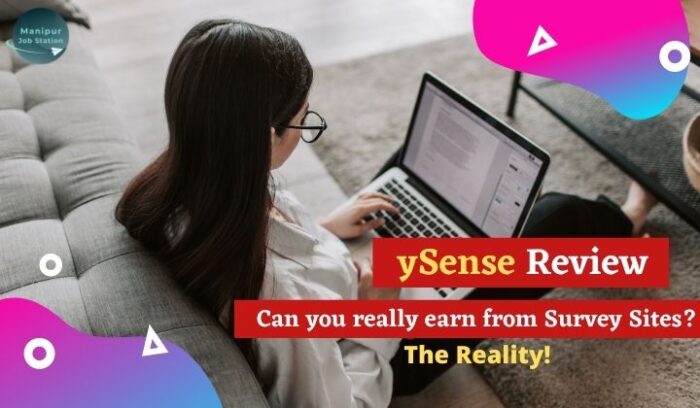 ySense Review: Can you really earn from Survey sites? The truth!
When people try to search online for making money options, one of the most common ways they come across is GPT sites/Survey sites that provide ways to make money by completing surveys, offers, and tasks.
And if you try to find a list of such sites, you will get hundreds or even thousands of sites that claim that you can make a good income from survey sites. So, can you really earn from these survey sites?
But do you know there are only a few sites that are legit. And out of these, I've tried is ySense. Let me show you my reviews on this sites.
After all, I have made around $13.57 with these sites from last week.
First of all, you can see my total income, payouts, daily income and balance amount in the above image. I have earned $13.57 till date from ySense. Although my joining is March 2023, but I had started working seriously just a few weeks after receiving a small payouts.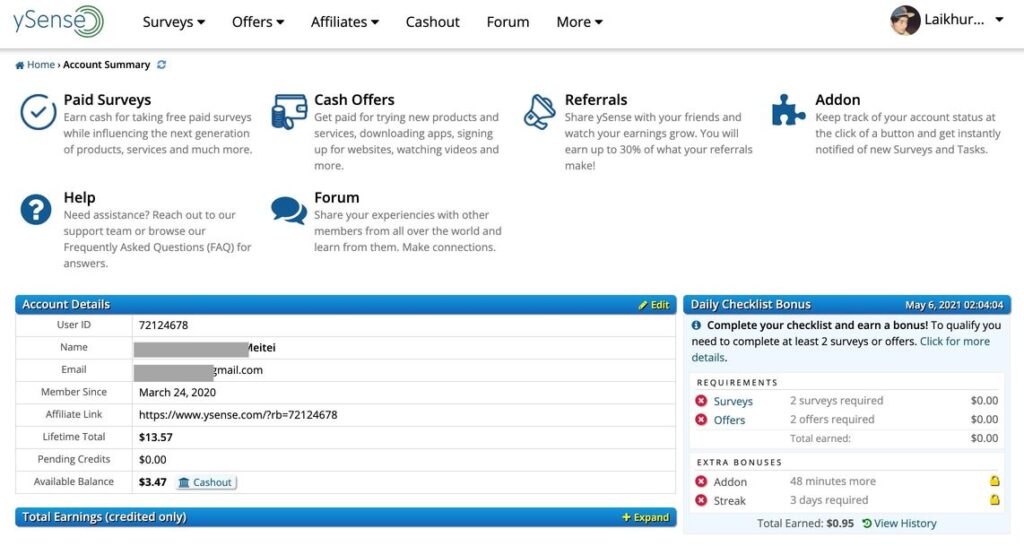 And that too by spending just 10-20 minutes a day on ySense.
So if you are looking for an extra income opportunity, you need to add ySense to your list of online jobs because it takes not more than 10-20 minutes of your daily time.
So before you signup and start making money from ySense, I want to give you some ideas & review how exactly you can make money from this site & how you can multiply your income using some simple tips & tricks.
ySense Review: How to Make Money from it
First thing you need to do is signup ySense from this link. After signup, you will receive a validation link from ySense.
Once you click the validation link, ySense will ask you to login to your account. After you login, it will ask you to add some more details in your profile like address, phone, avatar (add your image) & most important is payment method.
Also you get extra bonus for your login with ySense. You will be automatically enrolled to ClixsenseResearch.com. Learn more about this at the bottom of the article.
There are 3 methods of to receive your payment, i.e. PayPal, Payoneer, Skrill, Neteller.
You can choose the payment method based on your preference.
After adding all the account details in ySense, click "Update" button and it will take you to their main page where you can start earning money.
You can refer the image below to understand more clearly.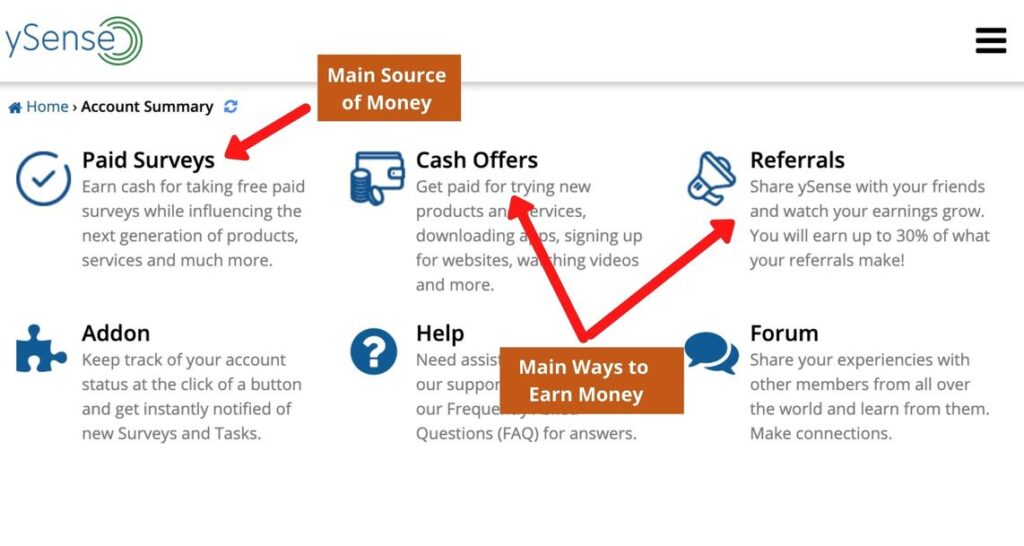 You can see there are number of ways in ySense to make money. I will explain you each of the method so that you can make a passive income from ySense. Your income will be slow for the first 6 months and after that you will be able to make better income.
1. By Completing Paid Surveys in ySense
Paid Surveys are the main income option in ySense. Everyday you will find new paid surveys in your ySense account. You have to complete each and every survey after login to your ySense account to earn good income in ySense.
You will find 2 types of paid surveys in ySense. First one is Survey Invites and second is Daily Survey Routers.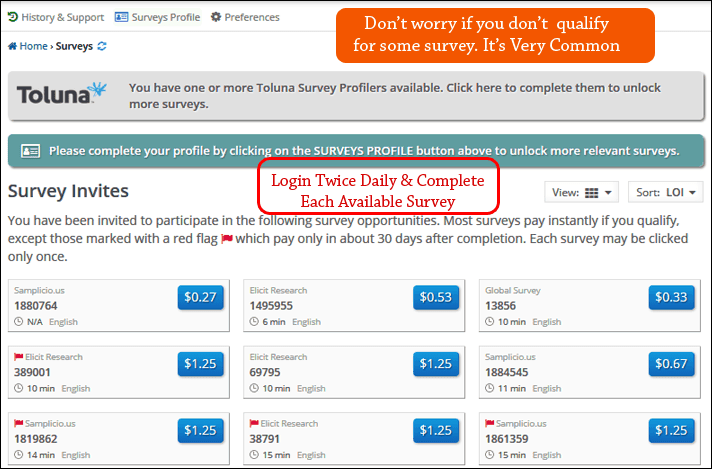 In order to receive maximum surveys, you need to complete your Survey Profile that you can find at the top left once you click the Paid Surveys option in your dashboard as shown above.
You need to give accurate information about your age, education, jobs, family, hobbies, preferences etc. so that you will receive surveys according to your profile and interest.
Each of the survey in Survey Invites pay you minimum $0.25 to $2 or even more according to the time spent to complete a survey. Most surveys pay instantly if you qualify except those marked with a red flag as shown in the image. You will receive payment from red flag surveys in about 30 days after completion.
You can click only once on the surveys available here.
You need to login to your account daily and complete each and every surveys in order to earn good amount. Sometime, surveys are rejected if you don't qualify or if your profile is not suitable with that survey.
So don't worry about any disqualification. Just complete each and every survey you will be qualified for and earn good income with this job.
2. Daily Survey Routers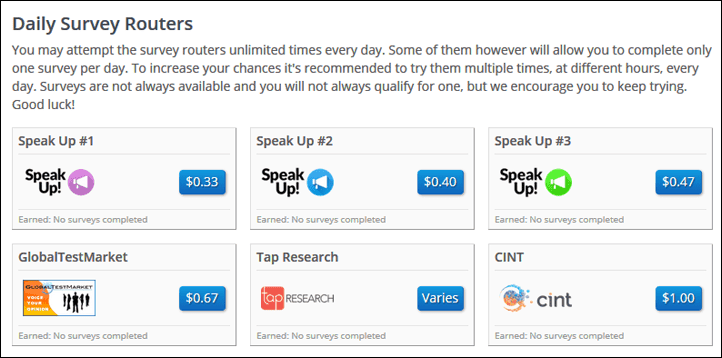 Daily survey routers are surveys where you can attempt surveys unlimited times per day. Some may allow you to take the survey only once per day, while others may have higher limit. Recommended is to keep on checking multiple times at different hours to check for available surveys.
3. By completing different offers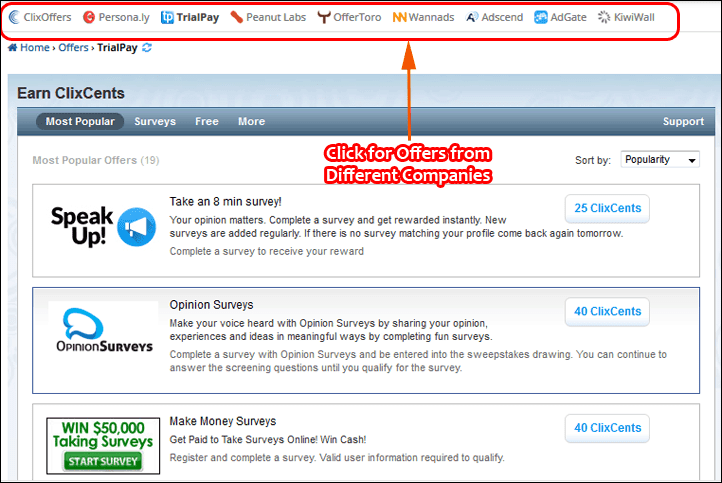 You can also earn in ySense by completing different types of offers. These offers are available from different types of websites.
E.g. you will get paid for signup on different sites, you can earn by downloading useful apps on your mobile or similar types of offers.
There are around 9 different types of offers from 9 different companies through which you can earn yCents. These yCents will be converted to equivalent amount of dollars.
Anytime when you login to your ySense account, you can find number of offers from these companies. You can check the offers, understand what it wants you to do and complete the offer to get paid.
4. By completing ClixSense tasks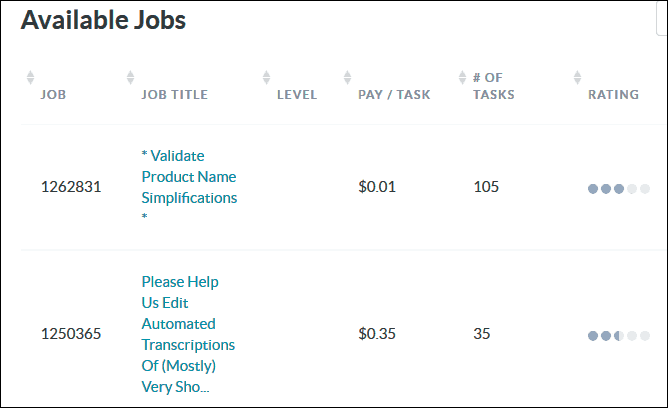 Another way to earn money in ClixSense is by completing the tasks. When you click on the 'Task" link on the top, you will find number of different tasks provided by Figure Eight, a crowdsourcing service that enables you to work on small tasks giving the opportunity to earn some extra cash.
When you click on any of the task or job given there, it will ask you to signup at 'Figure Eight' site. You can then complete the all the tasks provided by this company in ySense.
You can complete the tasks that you like the most and complete them as per the instructions. There is no limit on how many tasks you can complete.
You can go to the bottom of the Task page to find 'Top Task Workers'.
5. Through Affiliate Program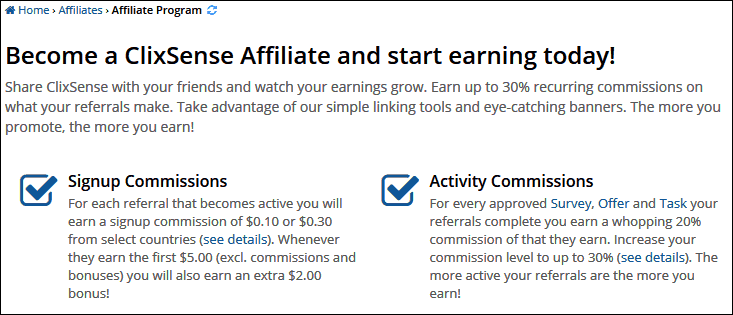 This is another great option for making money. You can earn unlimited income with the affiliate program provided by ySense.
You will get lifetime income from every person that you refer in ySense.
You will earn 3 different types of income from each of the person you refer in ySense.
Up to $0.3 instant income for every referral
$2 bonus when each of your referrals earns $5.
For every approved Survey, Offer and Task your referrals complete you earn 30% commission.
You can find your affiliate link in the "Account Details" section. You can refer the first image of this post.
So above are the ways, you can earn money from ySense.
Disclaimer: These sites are good for earning a small passive income by working some few minutes. You cannot depend as a full income source. So, consider these kinds of survey sites if you wish to spend your free time and earn some extra earnings for your pocket needs.
Click here to Sign up for ySense and check it out if its worth for you.