10 Best Schools of Manipur to choose for your children.
Every parent wants their children to go for the best when it comes to education. Choosing a school for your children is one of the toughest choices of every parent. Manipur is a small state with a large number of private and government schools. So, no doubt, it must be tough to choose which one would be the best for your children or yourself. Choosing a good and best school is a must in order to build a successful and great personality starting from an early age.
So, here is the list of 10 Best schools of Manipur based on their facilities and the academic performance of their students. We also break down these schools in terms of infrastructure, fees, teaching structure, facilities, etc.
Based on the above criteria, we have selected the 10 best schools of Manipur as follows:
1. Slopeland Public School
2. Herbert School, Changangei.
3. Unacco School, Meitram
4. Sainik School
5. Kendriya Vidyalaya Lamphel
6. Mega Manipur School
7. St. George High School, Wangkhei
8. Maria Montessori School, Koirengei
9. St. Joesph School
10. Don Bosco
1. Slopeland Public School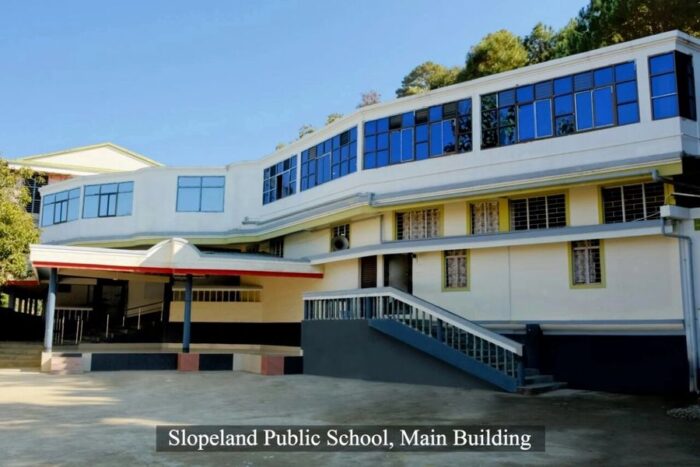 Slopeland Public School is a Co-educational Senior Secondary residential School affiliated to the Central Board of Secondary Education (CBSE). Slopeland Public School is the largest educational campus in Manipur, and one of the largest in North East India, situated at a very pollution-free eco-friendly place, 35 kms far from the maddening and hectic crowd of Imphal City.
Slopeland Public School is a co-educational boarding school, with approximately 1200 students on its rolls out of which around 900 students reside in the School hostels. The school considers education to be a life process which should have a strong foundation. The goal of the school is to inculcate in the students a love for learning and a desire to excel at every level.
Here, the teaching-learning process is highly activity oriented where the involvement of students is prioritized and they take proactive role in the process itself. Every possible resource is dedicated to developing in its students the values and skills that form the foundation of a life of accomplishment, leadership and fulfillment.
Slopeland Public School is one of the best schools of Manipur you can consider for your children.
Address: Salt village, Khongjom, Manipur 795148
Visit the Official Website here.
2. Herbert School, Changangei.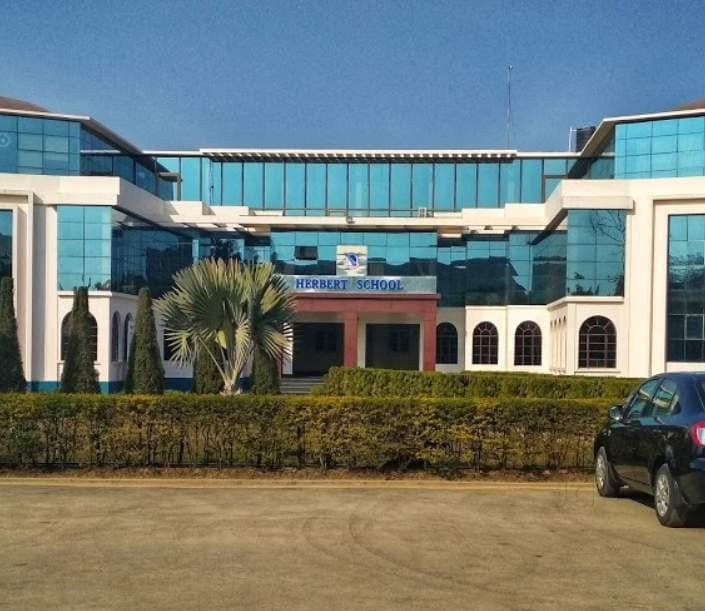 The second on the list of 10 Best schools of Manipur is the HERBERT SCHOOL. Herbert School, Imphal formerly known as Harvard School was established in the year 2000 A.D. It is a co-educational institute recognized by the Council of Higher Education, Manipur. It offers comprehensive Science Education at the XI and XII standards.
The new Millennium being characterised by rapid expansion of the horizon of knowledge and technical advancement of high order, effective teaching-learning in such an environment is the key to success of life.
Herbert School with its team of dedicated, highly qualified and well experienced teachers will create an exciting environment for ideal teaching-learning activities by using the modern Teaching Aids like Multimedia, Internet, CDs, Slide Projector and Audio-visual aids. It aims at bringing a revolutionary change in the era of modern education by applying the latest trends, concepts and thoughts in education.
Address: Changangei, Airport Road, Manipur 795140
Visit the Official website here.
3. Unacco School, Meitram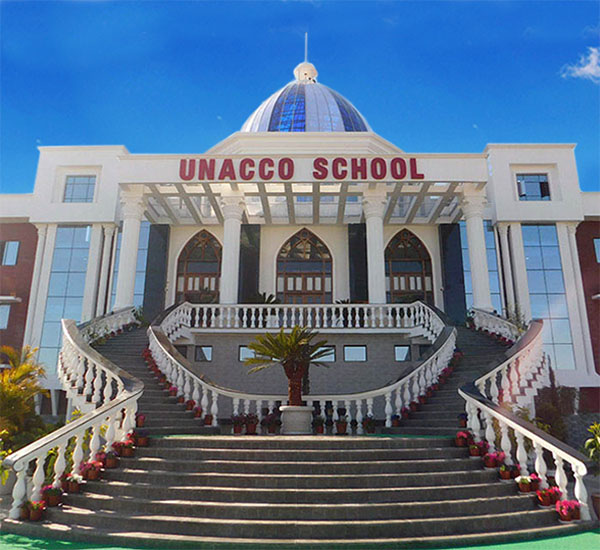 UNACCO SCHOOL's mission is to nurture sincere, ethical, responsible and dynamic leaders who will contribute positively to common goal. As an educational institution, UNACCO School aims at welfare, development and growth of knowledge for children to emerge.
Replacing the Academic excellence by the Educational excellence for the present and future welfare of the humankind is the UNACCO SCHOOL's philosophy. Academic excellence only is not sufficient for an individual to face the ever changing challenges. Educational excellence, a combination of all excellent qualities of an individual can be imparted to a child, by providing a planned education system that will benefit the child at the time of his/her coming out of school.
Dedicated power connection is available in the school campus round the clock ensuring regular power supply day and night. Standby arrangements for power supply with high powered generators are also available to substitute/supplement the power supply in case the regular power supply fails. The complex is provided with the continuous supply of pure & hygienic drinking/potable water.
Address: Meitram, Manipur 795140
Visit the Official Website here.
4. Sainik School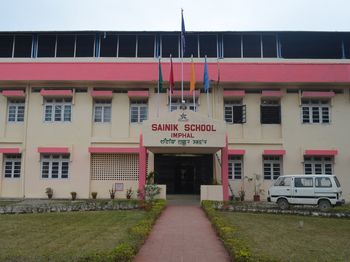 Sainik School Imphal is a residential English medium school established on 7 October 1971 at Imphal, Manipur by Government of India. It is one of the 33 Sainik Schools of India. It is affiliated to Central Board of Secondary Education.
Sainik School Imphal is located at Pukhao road which is around 8 kilometres (5.0 mi) from Imphal. The school has well equipped class rooms, laboratories and Libraries. Smart Class facilities are also provided in senior classes. The school has a central mess which caters food to all the students. The school is fully residential and has student dormitories.
Address : Sainik School Raod, Pangei, Manipur 795114.
Check the official website here.
5. Kendriya Vidyalaya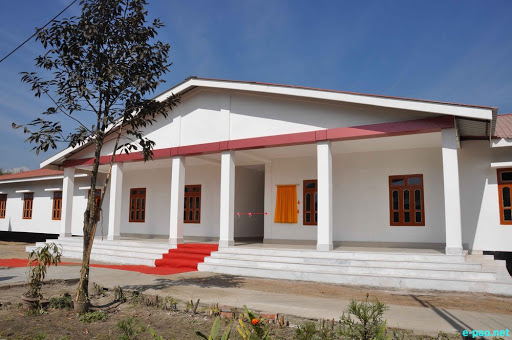 Kendriya Vidyalaya, Lamphelpat, Imphal is a Co-ed English medium school managed by the Kendriya Vidyalaya Sangathan. It is a CBSE, New Delhi affiliated school.
Kendriya Vidyalaya is famous for catering the educational needs to children of transferable Central Government including Defence and Para-military personnel by providing a common program of education for them.
The motto of Kendriya Vidyalaya is to provide the best education to all the students based on equality and excellence. The school recognizes the importance of nurturing the talents, imbibing enthusiasm and creativity in children along with academic learning.
Address: Langol Rd, Imphal, Manipur 795004
For more details about admission and fees structure, visit the site here.
6. Mega Manipur School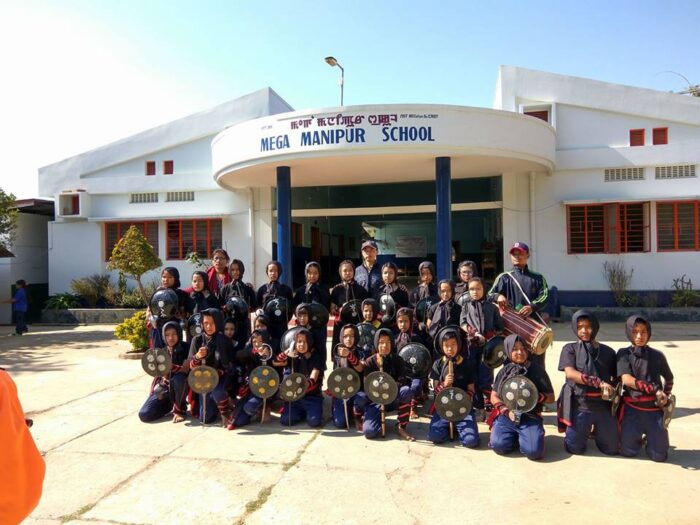 Mega Manipur School is located at the foothills of Nongmaijing Ching at Tinseed Road, Yaralpat, Imphal East approximately 7-8 kms. from Khwairamband Bazar. Mega Manipur School is an English Medium Coeducational School based on Montessori system of teaching/learning with local adjustment. The school follows syllabi and curricula of NCERT and CBSE, New Delhi for its academic courses. It is nurtured by a team of well trained and committed staff led by a dedicated and dynamic Principal. The school functions under the supervision of the School Management Committee constituted by the Mega Manipur Society, having representatives of Parents, Teachers and Society.
To ensure individual attention, academic improvement and mental growth to every student in the school, the Management has fixed the Teacher Student ratio at 1:20 and the overall Classroom Student ratio at 1:40.
Address : Yaralpat, Tinseed Road, Imphal, Manipur -795005
For more details about school, admission and fees structure, etc, Visit the school website here.
7. St. George High School, Wangkhei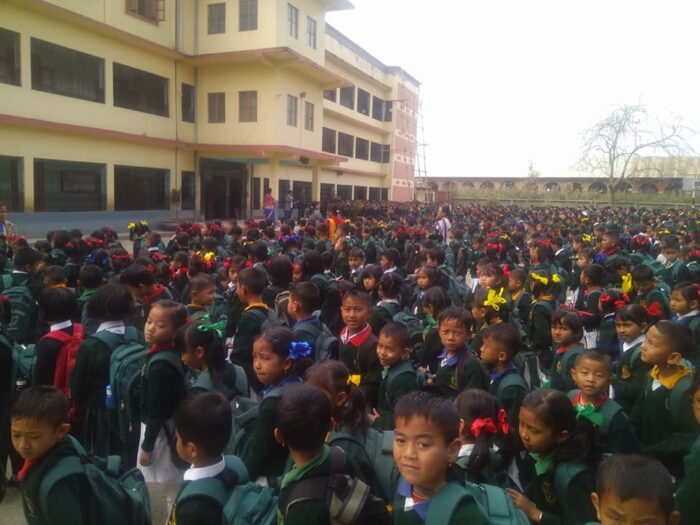 St.George High School is one of the Best private schools of Manipur. This school is located at Wangkhei, Imphal. The school is a catholic school and have been producing outstanding students every year.
The infrastructure and educational facilities are worth mentioning and your children can get a good discipline in this school.
Address : Wangkhei, Imphal 795001, Manipur, India
8. Maria Montessori School, Koirengei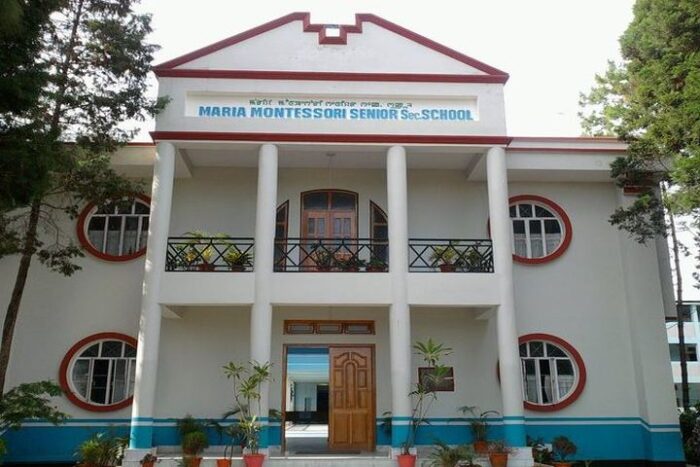 Maria Montessori School, Imphal was founded on 16 November 1985, strictly adhering to the 'Montessori System', the universally revered system of education for children. The School received its affiliation from the Central Board of Secondary Education (CBSE), Delhi in 1996.
The School is run by the Maria Montessori School Trust, a non-profit making organization which is committed to the cause of good education in the state of Manipur. The School campus is spread over an area of 6 acres in a quiet and natural ambience and is located about 10 kms from the heart of Imphal City, close to the Imphal Dimapur Road, overlooking the meandering Imphal River.
Address : Koirengei, Manipur, India, Imphal East – 795002
Visit the Official Website here.
9. St. Joesph School

St. Joseph Higher Secondary School is a religious minority educational institution established by the Catholic Church under the Arch diocess of Imphal by the Arch Bishop of Imphal carry out the day to day administration of the school. It caters primaraliy to the Catholic community but others are also admitted depending on the availability of the seats.
The School was started in the year 1982 by Late Rev. Fr. Mathew Planthottam. The school had its first class X batch in 1990 which produced a good result with 8th ranks. Father Mathew Planthottam was succeeded by Rev. Fr. Barbasino in 1992. Since its existence in 1982 there were 10 Principals namely Fr. Methew,Fr. Babasino, Fr. Tomy, Fr. Raffi, Fr.Mundoli, Fr. KD Joy, Fr. CM Joseph, Fr. Sabu, Fr. Jiten And Rrev. Fr. Victor Amul.
The vision of the school is integral and personalized education of the youth through a blend of faith and culture to become persons of right principles who will strive after excellence in every field and through selfless service bring about social justice. To achieve this, St. Peter's Higher Secondary School will make every effort to help the students.
Address : Sangaiprou Imphal West-795001, Manipur
For more details about school facilities, admission and fees, visit the school website here.
10. Don Bosco School Chingmeirong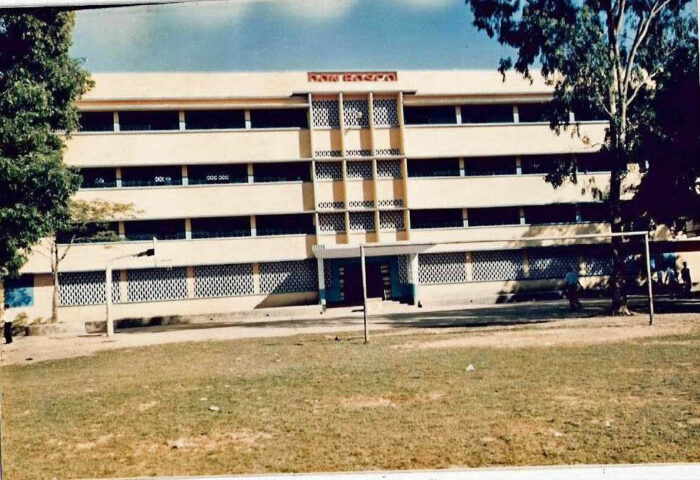 Don Bosco School, Imphal, situated at Chingmeirong, Imphal, India, is a co-ed, English medium school imparting education from Lower Kindergarten (LKG) through 12th grade. Established in 1957, it is run by the Salesians of Don Bosco, which is a minority institution within the Catholic Church. The school is affiliated with the Board of Secondary Education, Manipur.
The school pioneered education in the English medium in the state. As the school catered exclusively to boys, soon after it was started a sister school was established for girls by its sister society, the Salesian Sisters of Don Bosco. This second school is the Little Flower School, Imphal, on the Airport road. Today there are some 50 high schools and higher secondary schools run by the Catholic Church in Manipur and a Don Bosco College at Maram.
Address : Chingmeirong, Imphal, Manipur 795010
So, these are the list of 10 Best Schools of Manipur which you can consider for your child education.
Comment down below what do you think about these schools and which school should be included in the lists.
For more education related articles, check our other posts here.