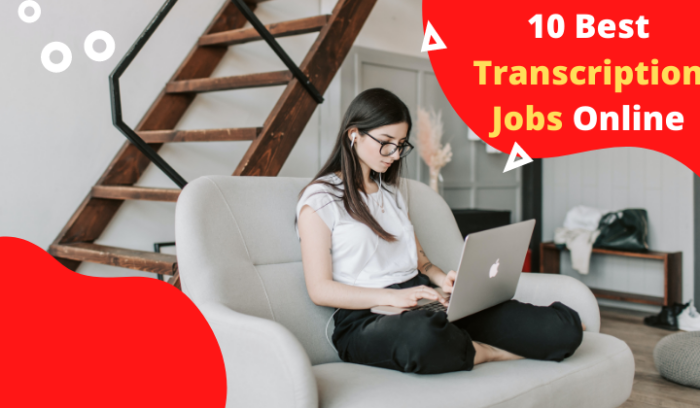 Top 10 Best Transcription Jobs from Home
Are you someone looking online to earn some side income these lockdown ? Well, you can try for transcription jobs.
Transcription job seems like an easy job to many, but it actually isn't. That is the reason there are so many best transcription jobs from home available but not enough transcribers.
So, what is Transcription?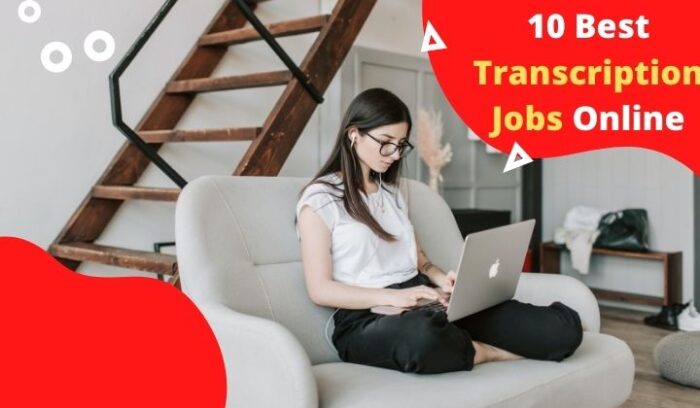 Technically, transcription in writing refers to the process where a person converts an audio/video into a written format. Transcription is everywhere. From the interviews to the legal decisions, everything needs to be written on a paper.
Transcription is not easy; it is an art. And it requires speed and accuracy in an equal amount. Around the world, there are millions of transcribers that work throughout the day and convert speech into text.
With the development of technology, several speech-to-text software have been developed that can transcribe speech faster. But, people still prefer transcribers for transcription work owing to accuracy and better pricing.
Transcription is for those who can sit for long hours and convert speech into written words. An average transcriber can type 60 words per minute. Some transcribers have phenomenal accuracy and speed.
If you are a transcriber or you wish to become one, then this article is perfect for you. Here, you will know about the top 10 websites to find the best transcription jobs from home. 
Millions of people have lost their jobs in the COVID-19 pandemic, and everyone is compelled to work from home. If you want to try transcription, you can make roughly $100-$200 per month. It is one of the great ways to earn some extra money. However, it requires hard work and efforts at the start.
Types of Transcription Jobs
Transcription is divided into different branches. These branches deal with different topics.
Although you don't need to have an in-depth knowledge of them, still you need to familiarize yourself with common terms, abbreviations, and spellings related to the field.
1. General Transcription
t is a very common transcription type. Here, you need to have fast typing skills and phenomenal listening skills. You will transcribe videos, lectures, interviews, audios, etc.
Sometimes it is difficult to recognize words and accents, but with time, you will improvise.
If you don't know where to start, I recommend general transcription for beginners. It is easier and more comfortable than the other types of transcriptions.
2. Medical transcription
This is a different and slightly difficult type of transcription. It demands a high percentage of accuracy. Here, you need to be familiar with the nuances of the medical field. It is an official work, therefore, you need to respect privacy too.
If medical transcription jobs from home interests you, you can look for online transcription jobs from home opportunities and get into this niche steadily.
Medical transcribers earn more money than others.
3. Legal transcription
Legal transcription jobs from home includes the transcription of legal things like court hearings, judgment, or anything else that relates to the law.
It requires high accuracy (98 percent) as the things you will type will be recorded as a legal statement.
However, legal transcription jobs from home is recorded clearly. You can listen to the recording and type it easily.
4. Financial transcription
Financial transcription encompasses all the transcription that involves the finances of a company, annual reports, sales, business meetings, or any other thing.
It is an easier job for individuals that opted for the commerce stream back in school.
5. Technical transcription
Technical transcription requires the transcriber to convert a speech that involves technical terms or definitions to it. It is quite an easier job for individuals with an engineering background.
If you are new to this niche, you have to understand a few terms, in the beginning, to understand what's going on in the audio transcription jobs from home.
6. Verbatim transcription
This type of transcription is slightly different. It requires the word to word conversion of a speech. You have to include transition words like- 'umm', 'erm', 'hmm', etc.
This means it requires precision and patience.
It is time-consuming, full of nuances, and it requires patience to listen.
7. Editing transcription
In this type of transcription, the main this is deleting the unnecessary words and only focusing on the words that adds a meaning.
This is opposite to the verbatim transcription. As a transcriber, you can make changes to the speech as long as the meaning stays unchanged.
8. Intelligent transcription
As the name suggests, this type of transcription requires a brain with fast typing and listening skills. Here, you have to omit those words or sentences that don't match the main theme of the audio transcription jobs from home. Therefore, you need to have a good grip on the words as well as on the theme of the speech.
Top 10 Best Websites for Transcription Jobs for you to Apply
Average hourly rate: $7-$10
Types of transcription: all types of transcriptions, live captions, subtitles, etc.
Rev is one of the most popular sites among transcribers around the world. It also pays you very well. As a transcriber, you have to listen to the audio, type it, and label the speakers. You will have to check its accuracy further.
You can also try to become a captioner. As a captioner, you have to watch a video and type the conversation. After that, you have to sync the captions with the video.
At Rev.com, you get weekly payments and you can choose any job that you like.
Average hourly rate: $2- $8
Types of transcription: Comes Under general transcription jobs from home.
Crowdsurf is a website that works with freelancers to provide transcription and close-caption services. It is easy to join crowdsurf work for anyone around the world.
It pays well to the transcribers between $2 to $8 per hour.
Average rate: $1.25-$4 per audio minute
Types of transcription: academic, legal, podcast, business, digital, audio, video, focus group, conference call, verbatim, market research, interview, etc.
GMR Transcription is exclusively for US-based transcribers. If you are based in the US, you can utilize this opportunity to find a job here. The payments are secure and the accuracy is around 99 percent.
This is for US citizens only, but they recruit only the most efficient ones.
Average rate: $1.0- $1.75 per audio minute
Types of transcription: general, budget, French, Spanish, etc.
CastingWords is a transcribing website for freelance transcribers all around the world. If you want to become a freelance transcriber, joining it now.
In order to start working with CastingWords, you have to make an account and add genuine details.
Average rate: $0.89 per audio minute
Types of transcription: general, professional medical, and legal transcription.
At iScribed, transcribers get around $0.89 per audio minute which is good. Here, you can apply for general transcription, medical transcription, and legal transcription.
If you are a beginner, you should start with general transcription.
Apart from that, iScribed also offers closed-captioning services (similar to transcription)
Average rate: $0.80 per audio minute
Types of transcription: all types
You can apply to Scribie.com and start transcribing an array of audios. The application process takes three steps. First, you have to submit an application, then you take an online test, and if you pass the test, you can start transcribing and making money.
Average rate: $0.79-$2 per audio minute
Types of transcription: medical, academic, technology, and consulting transcription.
At Transcribeme, you can join the team of highly-efficient transcribers by passing a test. After this test, you will get gigs that you will complete with high accuracy. After that, you can get the money via Paypal.
Transcribeme pays well to its transcribers. You can make about $2000 per month by just transcribing.
Average rate: $0.75 per audio minute
Types of transcription: general, education, medical, legal, insurance, and meeting transcription.
Transcription Hub used only human transcribers. It doesn't rely on any software.
To join Transcription Hub, you have to register on the website. You will be assessed on the basis of your past experiences. After that, they will rate you as gold, silver, and bronze.
You will get work according to your ratings and after that, you can take your payment.
Average hourly rate: $0.72- $1 per audio minute
Types of transcription: academic, research, verbatim, focus group, and medical transcription.
At Gotrasncript.com, you can find different transcription jobs from home. It pays you around $1 per audio minute which is great.
Applying for jobs is easy here. You can apply for jobs and get your earned money amount via Paypal. You can learn by trying different transcription niches.
To join the Crowdsurf, you have to follow three steps. After you complete these steps, you are good to start transcribing on the website.
Average rate: $0.79- $2.4 per audio minute
Types of transcription: audio, video, MP3 to text, research, interview, audio, verbatim, etc.
Transcription Panda offers transcription services at an affordable price. You can apply as a transcriber and transcribe audios, videos, interviews, etc.
The application process is easy and you will get around $0.79 to $2.4 per minute of audio. It is a fair price and you can easily learn the different types of transcription with practice.
Anyone from around the world with fast typing and sharp listening skills can apply for a job.
Must have these 5 things inorder to apply for Transcription Jobs
To become an efficient transcriber, you need to save several things. These things make the writing process easier.
1. Fast internet connection
People who work from home need to have a fast internet connection. This is undebatable. All these above-mentioned websites are only accessible via the internet. Therefore, spend good money on a wifi connection as it will help you in writing as well as connecting with your employer.
2. A laptop
A laptop is also essential. Some people rather prefer a desktop as it has a comparatively larger screen. You can use whatever you find comfortable.
Both of them have their pros and cons. A laptop has more mobility and you can use it on your bed, sofa, balcony, or a cafe.
Desktop computers are limited to their original place. On the other hand, desktops have a larger screen and you can view a lot of content in a single screen, with the small screen of a laptop, this isn't feasible.
3. Ergonomic keyboard
Tapping keys on a keyboard for too long might hurt your fingers. Therefore, it is recommended to buy an ergonomic keyboard with soft keys that gives the least strain to your fingers and hand.
Before buying a keyboard you should go through your requirements. If you don't like typing too close to the screen of your laptop, you should buy a wired, or wireless keyboard.
Wireless keyboards are better because they give you the freedom of movement.
4. Ergonomic mouse
A mouse is another important accessory while using the laptop. For convenience and to give less strain to the eyes and hands, it is best to buy a suitable mouse.
These days, wireless mice are more popular because of their simplicity and better design. I suggest you purchase a wireless optical mouse.
It will give you freedom of movement and you can operate your laptop form a sober distance. In this way, both your hand and eyes will experience less strain.
5. Headphones
Headphones are another really important accessory for a transcriber. You have to deal with myriad audios and speeches. Headphones provide privacy as well as clear sound. It also helps you in ignoring the noise.
You should buy ergonomic, affordable, long-lasting, noise-canceling, and better sound quality earphones.
Other things
Apart from all these primary things, there are other things that should be taken into consideration to ensure maximum comfort while working.
For example, for work, you should have an ergonomic chair and a multipurpose table. Both of them will not only increase your productivity but also alleviate body strain and help you improve your body posture.
Other than that, you can have things like an alarm clock (to replace your distractive phone) on your table.
Conclusion
In this article, you found out almost everything about transcription. You know the different websites where you can look for transcribing jobs and gigs.
You will be surprised to know that a lot of people don't know about transcribing yet. You should consider yourself the lucky one because you can use this opportunity to work a part-time or full-time transcription job from home.
Transcribing is easy if you have good typing skills and listening skills. If you possess both, then this is your call.
Sharpen your skills further and start looking for more opportunities. In no time, bigger and better-earning opportunities and other online jobs will definitely know your door.