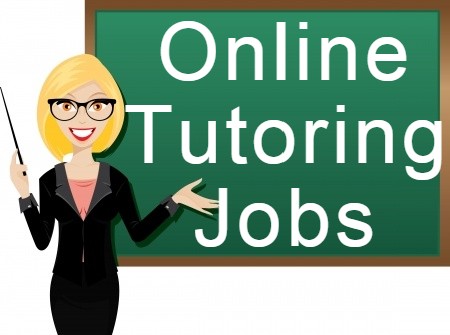 Online Tutoring Jobs- Earn Rs.20000/ month teaching Online
Are you looking to earn online by teaching students or become an online tutor? In this, I'll share some of the best sites where you can register yourself as a Tutor and earn a passive income by Teaching Students Online.
The best thing about working as a Online Tutoring jobs is that you can earn a huge income depending on your flexibility and less efforts.
Anyone who has a good knowledge in any subject can go for this. Being an online tutor nowadays is a great choice. One can easily make money by spending a few hours on online tutoring jobs sites.
Another best thing about Online Tutoring jobs is that you can work as a part time or can prefer as a full time Job. Both are profitable.
Why you should go for Online Tutoring Jobs in India?
Education has always been a major factor in the growth of society. Education and students have become competitive. On this tutoring has become a major factor in the improvement of children overall performance.
If you want to spare your free time in the most practical and profitable way, you can take up this online tutoring jobs in India. You can teach others and study yourself and at the same time you can earn yourself.
Online tutoring Jobs is one of the emerging career options in this decade. It does not demand a particular profession or a particular degree.
There are various websites where you can register and start teaching online. Some may ask for experience. However, many websites demand only your expertise in any website.
Here I'll list some of the best sites where you can enroll yourself and earn a passive recurring income Teaching Online.
Advantages of being an online tutor
Online Tutoring Jobs gives the flexibility of working hours( you can choose your own timing for teaching online, whether in the morning or evening also you'll get the options to choose the number of working hour (in some site)
You can work from anywhere from your own comforts with just a computer, laptop and a secure internet connection.
No geographical boundaries. You can teach students from different places and countries from your home.
Easy and high earning jobs as compared to other online jobs
Online teaching jobs will saves you a lot of time and money you'll spent if you prefer offline tutor jobs.
Suitable for college students, who lives in rural area.
Suitable for students preparing for govt exams. You can practice yourself and at the same time earn side income.
Earning potential is unlimited depends on the time and duration you can devote and spent time on your working hours.
Can make it a regular full time jobs in the future.
How much can you earn with Online Tutoring Jobs?
The earning potential of Online Tutoring jobs is not fixed. You can earn as much as you depending on the hours of time or the amount of students you can tutored. Some websites who ask for experience may give very well while in others, you can get decent amount of money.
If you have good command over English and have good knowledge on a certain topic or subject, you can enroll for websites which do not ask for much experience and start earning by teaching.
However, average Salary range varies from INR 10,000 to 100,000 per month (depends on many factors). Some sites also give flexibility, where you can decide your fees per hour.
What do I need to become an Online Tutor ?
1. If you have passion in teaching, it would be the best for you. You'll need to have a personal computer, laptop and a good internet connection.
2. Able to create presentation files or video lectures would help (if necessary)
3. It would help if you are aware of web-based software like whiteboard, blackboard and digital pen etc. and if you know how to use it.
4. You must have a good command over english and a good communication skills.
5. You must have good knowledge on the subjects you're about to teach the students.
List of websites for Online tutoring Jobs
1. Chegg
CheggIndia is a very well known platform among teachers and students . It is probably the best sites where you get paid for sharing your insights.
The students post inquiries on the site, and you need to give answers by posting on their post.
You can pick which question you need to answers, and afterward you need to answer that in a restricted time.
You can solve or provide answers as much as want. The earning potential relies upon which subject you are picking and what number of inquiries you are solving every month.
The rate per question is higher for subjects like software engineering, Engineering subjects, bookkeeping, fund, the board and so on (approx Rs 168-195 for every inquiry).
In addition, for subjects like Math, English, Chemistry and so forth it is lower (Rs 75-90 for each question).
It pays you for each right answer you post. A starter can expect 10,000 every month in the event that you are customary in comprehending two inquiries for each day.
Regardless of whether you allow 1-2 hours out of each day, you can get a decent sum. The best thing about Chegg is, it pays on time.
2. MeritNation
MeriNation is also one of the best Online tutor sites. Here the teaching method is done through Skype or video calling.
The students you'll teaching here are mostly between 6-12 standard students and those who are preparing for entrance exams as well.
Merination pays around Rs.600 per hour for teaching. You can choose your own subject and amount of time you would like to teach.
You can earn decent money in a month by teaching basic school education to students. The earning potential on Meritnation is higher.
You can apply on their website directly or you can call them to schedule an interview for job.
3. Vedantu
Vedantu is a very popular online tutoring jobs platform among students. Moreover, the website itself mentions that you can earn up to Rs 25000 per month by spending 4 hrs per day and 75000+ per month for the full-time job.
Vedantu is somewhat similar to Merination in terms of teaching method. You'll teach students through video calling or Skype. You can teach students from 6-12 standard students here too.
It also offers Math+Science courses, JEE main & Advanced courses. You can choose subjects or courses of your own choice. You can earn 15000+ per month from this website if you are regular and can spend a minimum of 1-2 hours.
You can set your own teaching charges, and the earning depends on how much time you devote and how many sessions you are taking in a month.
You can check the testimonials and reviews of tutors on the website, you will find incredible experience from them.
4. Vidyalai
Vidyalai is an online tutoring website to teach to 8th-12th-grade students for Board exams or competitive exams (IIT, NEET etc.).
You have to take live one-on-one class through online video chat, and it pays for each session. The rate of teaching is not fixed in Vidyalai.com. It depends on your experience and the subject you choose.
5. Learnpick
Learnpick is a website where you get the options to teach students online, or you can also choose home tuition, and it will help you to find student who are looking for home based tutor instead of online.
Check out and Register yourself on Learnpick, and you can set the amount/rate per hour for each subject. It covers various subjects from school level to competitive exam preparation level.
6. Teamlearn
Teamlearn offers you to teach subjects of CBSE, ICSE or other board schools. It also offers engineering tuition to all branches. The teaching mode for this sites is live video lectures.
If you have good command over English, you can also enroll and take special English classes to increase your revenue.
It also offers lots of other subjects like accountancy, Job skills, communication English etc. If you are good at any subject, you can take classes and earn good money from this site too.
7. BharatTutors
It is also one of the popular online tutoring jobs platform. Here the teaching mode is classroom teaching as well as a personal one to one live classes using an inbuilt whiteboard. Tutors can decide their fees per subject and can take classes as per their availability.
If you are not available on weekdays, you can choose weekend classes. It helps tutor in finding students who are specially free on weekend.
8. TutorIndia.net (Teacheron.com)
Another India based Online teaching platforms. You can teach multiple subjects on this platform. Teacheron offers subjects like school grade subjects, programming languages, job skills, engineering branch subjects, communication skills and many more.
You can also pick up assignment jobs in this platform where you just have to help students in completing their assignments. Here you have to decide per hour fees or charges. And you can teach online via Skype.
9. CueMath
CueMath provides you the platform where you can teach mathematics to KG to 8th class children to make their foundation strong. It provides unique teaching and learning experience. All the teaching material will be delivered to you at your home.
This website CueMath follows a unique way to teach kids, and they will provide you training and certification for that. After that, you will be able to take classes.
Working from the comfort of home you can earn upto Rs 40000 per month from this website.
10. Udemy
Udemy is one of the most popular websites for education and it is not a type of online tutoring jobs but somewhat similar to that.
In Udemy, you can post videos or course in these platforms and if someone buys it, you'll get the income.
However, the advantage is that it is a one-time investment. If people liked your video, they would keep buying in future, and from one course you can generate decent money in future.
So if you want to enroll in Udemy, you have to ensure you make quality content. The amount of money you can make on Udemy will depend on the type of course which you have created.
It gives you the freedom to choose your topic or any subject to create videos. You can decide the price of your course.
So, these are some of the sites where you can enroll yourself and become an online tutor to utilize your free time and earn passive income with your knowledge and skills.
Also, there are certain sites where you can only teach English Language or any other Language and earn money if you've expertise in any language.
English is the most demanding language and universal language. It is the most common way of communication for different people around the world.
People in India or any other countries where English is not the common language, often finds difficult or not fluent in speaking English. So, they face a lot of problems in interacting with people from other countries. So, learning English is a must for every people.
The below sites I'm sharing below recruit teachers from all over the world who have good command in the English language and are fluent in speaking English.
Also Read : Udemy Free Online Courses. Get Enroll now
1. TheFluentlife.com
TheFluentLife is India based firm founded by IIT entrepreneurs of India. They will provide you teaching material, and you have to take live video classes one-on-one through Skype or Zoom video calling.
Even if you are a college student or an employee, you can teach others if you have good command over English.
You can teach Spoken English, grammar, business communication etc. They have other website called Ufaber there you can teach competitive exam courses like Gate, UPSC and IELTS.
You can call them or email them to apply for a tutor.
2. Italki
Italki is HongKong based company. Not only English but you can also teach another foreign language on Italki if you have good command over any language.
The best part of this international website is that you can also teach Hindi language to students. There are many people around the world where people wants to learn Hindi Language and learn Indian culture and tradition so this might be good choice.
You have to create a video profile talking about your introduction and your expertise in the language you want to teach. Based on that students will pick you as a tutor. You will be paid for each session.
3. Fluentify
Fluentify is a bit different from other sites above. Because it strictly demands 2-year teaching experience and certification in English language (TEFL Certificate) to be a part of their program.
If you have this experience, you can apply here because its remuneration is quite higher than other websites. Becoming tutor on this website is little tricky and challenging for starter.
4. Preply
On PrePly, you can teach English, Hindi and other foreign languages. This website does not demand much experience to teach any language. You can easily get approved.
Here you have to create your video profile, summary about yourself, your qualification, experience and knowledge of the language etc. and you have to upload on the website.
Once the support team review your profile, They will give a rating on your video. On Preply, they also provide you with the option to teach Math, computer and other subjects.
This website is mostly known for online language learning classes.
5. VIP kids
VIP kids is a China-based firm. In this site, you can teach spoken English or basic school grades level English to Chinese students.
You'll need to apply for teacher by filling up a application. The support team will review your application and if there is a vacancy and qualified, you'll be hire and you can start working.
The 5 sites I've mentioned above pays very well. There is no fixed pay. You can earn as much as you want based on your time and dedication.
By working on these site, you can easily earn a good handsome money and turn your teaching passion into full time profession by working at your own comforts.
Hope you like this article, feel free to add on or suggest any other platforms if i missed out. Share this and help people as much as you can so that they will utilize and make a career with Online Tutoring Jobs.