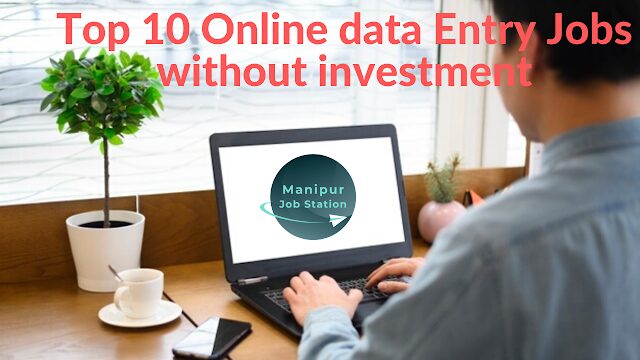 Top 10 Online Data Entry Jobs without Investment
Data Entry is the most easiest and most searchable jobs across the Globe, may be online or offline.
These jobs are suitable and work best for people who are less qualified and difficult in finding office jobs.
There are lots of Free as well as Paid Online Data Entry jobs available on the internet which are pretty good and can pay you extra earning to cover your monthly expenses.
If you're able to work efficient, you could able to earn Rs.10000- Rs.20000 per month which is a pretty good amount.
If you have a good typing skills and a good command over English Language, then you can easily find online data entry jobs on the internet.
In this article, I'm going to share you top 10 legit online data entry jobs without any investment.
What are Data entry Jobs ?
In simple definition, Data entry jobs are typing jobs where you need to convert any type of data into words, whether it may be audio, video, captcha. You need to convert those data into words by typing.
All the data should be converted into digital form in MS Word, MS Excel, PDF, Web-based system, etc for a certain need. So, companies are hiring a lot of data entry operators all over the world.
You can earn a decent amount of money through online data entry jobs available on the internet.
You will get paid on the amount of hours you work and number of tasks you can complete at a certain time frame or the number of pages you could type.
As I've already mentioned, this jobs is perfect for people who are less qualified and have less skills and who would like to work from home comfortably with online jobs.
What are the requirement of Online Data Entry Jobs ?
In order to enroll for Online Data Entry Jobs, you do not need much knowledge or experience but yes you will need a laptop or a personal computer, a good internet connection, a gmail account, Typing software: MS Office, MS Excel
Online Data Entry jobs are suitable for housewives and students who are looking for jobs or preparing for exams. You could earn a passive income with this.
A lot of sites are available for data entry jobs. However, a lot of fake data entry websites are coming up. You'll find a tons of website where you will get data entry jobs and they'll ask you for registration fees.
Note: Beware of scams, whenever any sites or organization ask for any sort of fees(registration fee, security fees, etc) for any online data entry jobs, please stay away from that. They are scams.
So, here is the 10 legit online Data Entry jobs where you can start up without any investment.
Types of Data Entry Jobs
1.Captcha Entry Jobs
Captcha Typing jobs is one of the easiest type of data entry. In this, you need to simple see the captcha and enter it same.
The pay is less as compare to other jobs but it's the easiest data entry available on the internet.
You need to sign up to captcha sites and where you have to login with your username & password & then type the Captcha images as provided to you.
You can't earn much from this but could possible earn $50-$100 per month from this job.
You can check out various legit captcha sites such as 2captch.com, megatypers, prototypers, etc.
2.Online Form filling jobs
Form filling jobs are those where you'll be provided with a list of data in a file.
You need to fetch the data into their database and you'll get paid for each form you've filled.
Online Form filling jobs are rare and not common but you can find on the internet. Some companies look for people to complete such online form filling jobs.
I've share where below where you can find such jobs online. (Continue Reading till the end to see all the platforms. )
You have to make sure and type the data correctly otherwise your work will get rejected and you will not get paid.
3.Content Writing
Content writing is a bit different than usual data entry jobs. It is the most advance and highest paid Data Entry jobs. You could earn a lacs of rupees with content writing.
A lot of websites, companies looks for content writer to build their sites and promote their stuffs.
They are paying thousand of dollars to write article and post for them.
Company will hire you and you need to write good article for them. You'll get paid per words depending on the quality of the content.
You can register yourself in Fiver, freelance.com as a content writer and once you get hire, you can start earning.
4.Copy Paste Jobs
This is another easy data entry jobs from home, which involves copying data from one file to another.
These types of jobs are usually required by the company or the people who are either upgrading their software or changing them.
Note: it is very difficult to find a copy paste jobs in internet. You have to search internet and other classified sites to find a genuine copy & Paste job that could pay you.
5.Micro Jobs
Micro Jobs is another great Online data entry jobs. In this, you need to register in micro job sites and start completing simple tasks and you get paid.
Micro tasks includes downloading apps, website visit, clicking on ads, form posting, youtube videos commenting, etc.
The pay is very less although you could possible earn Rs.3000-Rs.5000 with micro jobs.
You can join microworkers, picoworkers, etc to work and earn from microjobs.
6.Online Surveys Forms
Online surveys is also one of best data entry jobs. In this, you'll need to complete surveys provided by different surveys sites and you get paid.
Many companies and sites want to test and get feedback about their sites or products/services, so they host surveys to improve their products.
Many online surveys sites are there in the market which pays really good and you can earn decent income.
Some of the best surveys sites are ySense, Prizerebel, YouGov.in.
7.Basic Typing Job
The first which comes to mind when he hear about data entry jobs is typing. Here you have to type datas into word document or excel sheet.
You don't require any special skill or experience other than typing speed of 30+ words per minute.
Apart from this, you also need good knowledge in English so that you could type efficiently without any error.
You will be paid anywhere between Rs. 10 to Rs. 20 per page in this type of work. Some employers pay on an hourly basis.
8.Medical Transcription Jobs
Medical Transcription is the most popular work from home and online data entry jobs in most countries
In this, you have to note down things you listen in phone calls. So it is bit different than regular data entry job.
You need great listening skills and ability to grab words to write down efficiently.
If you are a student of medicine, retired or working medical practitioner, nurse or paramedical staff, online medical transcription would provide an easy yet interesting source of additional income.
You can find Medical Transcriptions jobs in reputed job websites such as Naukri.com, indeed.com.
A large number of medical transcription jobs providers are always on lookout for new recruits.
9.Data Formatting
This job doesn't require you to type a long paragraph of sentences and words, instead, you need to format the data.
You will be given some MS Word, Powerpoint, Excel documents usually messed with data improperly aligned.
You need to properly align those data by separating long paragraphs into shorter sentences, adding bullets, numbering the lists, etc.
You need to have a good knowledge in MS Excel for these jobs.
10.Proofreading and Copywriting
Proofreading and copy writing is also a data entry work same as with that of Content writing. However, they are bit different than regular data entry jobs.
Copy writing is writing of content or article to get more sales of products or services.
In this, companies and business will hire you to write sales letter in ms word or excel to promote their products and services.
Here you need good English communications and typing speed is not required. You must be able to read articles and find out mistakes.
Also Read : Top 10 Free Online Jobs Ideas to earn without investment
Where do I find these real and legit Online Data Entry Jobs ?
There are tons of websites on the internet which claim to offer you Online Data Entry Jobs but as I've mention earlier, 80 percent of the sites are scams.
So, you need to make sure you choose the right platforms.
Here are some of the sites where you can find legit online data Entry jobs.
Freelancing Site (Upwork, Freelance.in, Peopleperhour)

Fiver

Jobs Portal

Classified Sites
Freelancing Sites
Freelancing sites are those where individuals register to work for various jobs based on their skills. You can register yourself as a freelance data entry operator and earn income.
Some of the freelancing sites are Peopleperhour, Upwork, freelance.in.
You need to register and create a unique profile with all the relevant information so that when people see your profile, they'll be intended to hire you for data entry jobs.
Also, people will be posting to hire for jobs. So, you need to make sure you keep checking them and bid your request.
Once someone liked your bid, they'll hire you regarding the job and you'll get paid.
You won't believe but there are people earning Rs.20000 to 1 lacs per month as a freelance.
Fiverr
Fiver is the best platform to earn a huge passive income online whether it may be Data entry, apps development, website builder, etc.
It is a marketplace where the seller meets buyer and buyer meets seller.
To work as Data Entry operator, you'll need to sign as a seller and create a profile as same on the above freelancing sites.
See how people are creating their profile. Create a unique profile and upload all your skills or experience to attract people. Once someone hire you, you will earn money.
You can set your own price/rate for the tasks.
Download this E-book which shows the step by step on how you can make a profitable passive income with Fiverr. Download the E-book absolutely free.
Job Portals
You can find Legit Online Data entry jobs in jobs portal such as Indeed, Naukri, monster, etc.
A lot of legit Data Entry Jobs are posted everyday in these job portals. You need to sign up and search for companies searching for data entry works.
Find someone suitable based on your profile and then apply for the job.
The cons are, most of the jobs in these job portals require you to work in their place and are offline. You can't work from home.
Classified sites
Classified sites are those where people advertise their products and services.
You can find legit Online data entry jobs here as well. You'll find a lot of services or jobs such as data entry, typist, BPO operators, etc.
Some of the recommended classified sites are Olx, quikr, craiglist, etc.
Visit the site and search for online data entry jobs. They post both offline and online.
Choose work and before you join, contact the employer first, upon satisfaction, get the job and complete the work from home and get paid.
Also read : Online Tutoring Jobs- Earn Rs.20000/ month teaching Online
Important Tips
Please make sure to enroll for Online Data entry jobs wisely as I said 80 percent of the sites are fake.
Be aware and stay safe from scammers, never pay any fees (registration fees, security deposit)
Don't take the job if they ask for an initial deposit. No genuine data entry sites do not ask for any kind of deposits or fees.
Freelancing sites and fiver are mostly recommended as they've low risk because you'll get the payment first before you complete the work.
Hope you like this article. I've provided the detailed information on top 10 Online data entry jobs without investment.
You can earn a decent passive income with these online data entry jobs. take a step and build your online business work from home.
Follow us and visit our website regularly for more ideas and opportunities on online earning jobs