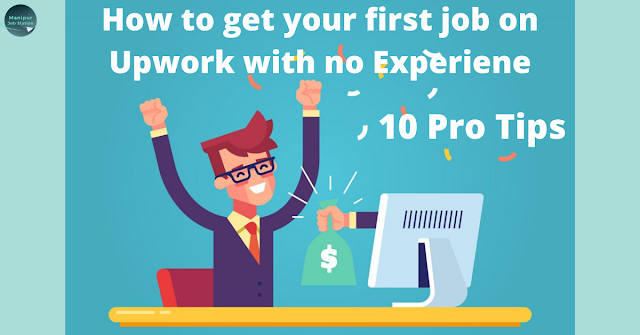 How do i get a job on Upwork with no experience- 10 Pro Tips
 Are you looking to get a job or work on Upwork as a freelance and earn some passive income with this platform ? Well, if yes, then keep reading..
Let us first understand what is Upwork and how do you go about getting your first ever jobs with it.
What is Upwork ?
Upwork is one of the best online jobs freelancing sites where you can work as a freelance and earn huge passive income part time or full time depending on your skills. Other similar sites are fiverr, freelance.com, etc.
Upwork connects the workers (freelance) and companies or people who are looking for their work to get done.
If you're looking to get a job on upwork with no experience, then make sure to read the full article.
I've made 9 important pro tips which you need to consider before working on upwork and get your first job with no or less experience.
How to get my first job on Upwork with no experience ?
Getting your first job on Upwork can be really time-consuming, tiring and sometimes with no result.
I struggled a month and a half before I could get my first job on Upwork. After wasting lots of time, I realized that I'm doing something wrong.
And today, I'm gonna share with you 9 pro tips that will helped me to get my first job on Upwork with no experience and with a 5-star rating.
Pro Tips to get your first job on Upwork  with No experience
Tip 1. Competitor Research
The number one thing that you want to do on Upwork is to do a light competitor research.
You want to understand how your competitors market themselves. For that, click on the job search drop down icon,click on Freelancers and agencies. Write down your profession.
Let's look for graphic designers as I already typed that.
Let Up Work take its time to load the search results.
Here's what I want to know about my competitors: Their Title, their description, their experience. 
Their title – do I understand what they do?
As a client, do I see what I'm looking for?
Analyse three or more profile how they convey their skills and experience. Focus on adding extras on your profile.
Tip 2. Optimize your profile with a great profile picture
Yes, you need to make sure your profile is well optimize so that people can easily look at it and find appealing to hire you.
Especially because you don't have any previous job experience on UpWork, it's essential to have a 100% complete profile.
Next, I'd look at the profile picture – is it professional enough?
Pay attention to your profile description how do you present your skills in a better way?
Then, the first several sentences of their profile description (because that's what the clients see when they do this same search).
Is it engaging?
As a client, would I be interested in their experience and the profile in general?
Make sure to use the same keywords in the title and the description. And provide information which will help clients choose you over others.
List all of your skills you would like to be hired for.
When you're done, ask your friends to read your profile description and give you feedback.
See these two people have more than 10 years of experience. Both have a great profile.  
But For me, the winner is this first guy – he is client-centered and talks about the benefits the client will get from him. 
He also listed all of his skills which is very good. However the second talks about herself.
Tip 3. Build a Great Portfolio
One very important thing to look at, is the portfolio. Sometimes UpWork shows an image from your portfolio in the search results.
If you have a portfolio, it is another great way to grab attention and show the clients hey, I'm better than others, choose me.
Analyze all of this information and think how you can out compete them, what they don't provide that you can.
So, I would suggest you to start off with a low paying jobs and once you satisfied the customer, you can add it up as a portfolio, it attracts more customers.
Tip 4. Look for the right jobs
Now that you have optimized your profile, it's time to look for a job.
One thing I would really like to highlight here is to look for the right job. Now what do I mean by right jobs ?
I mean don't be desperate and accept for all jobs that comes your way thinking of just money.
The first month when I was getting started, I didn't find any job and I was really desperate. I started looking for any job that I could do. So in the end, I landed a job of English Grammar Quiz.
And the client was happy, I was happy, I got a 5-star rating.
But in the long run, I understood that UpWork recommends freelancers who have completed jobs with similar skills and ranks them higher than others.
So if I want to continue as a digital marketing specialist, English Grammar is not the skill I want to be ranked for.
This is why you have to be careful with the first jobs that you land.
If you want UpWork to show your proposal on the first page, you have to be careful with the skills.
Before applying or biding to a job, make sure to read all of your skills and understand that this is what you want to be ranked for.
Tip 5. Don't be too desperate
Now, if you are looking for a job desperately and can't find anything, it's because you randomly look for a job.
But, in reality, if you want to find a job, you have to look for a job during the week and on different hours. None of my clients respond to my messages during the weekend.
Absolutely NOBODY.
This is when I wanted to start my own research and understand if there's good timing to apply to a job on UpWork.
I found out that the best times to apply to jobs on UpWork is during the week, before and after lunch hours and early in the morning and late at night.
Because depending on the time zone difference, the best time for the clients can differ.
But at the weekend, there's almost no chance to land a very good job. because everyone is having a rest.
So my advice to you is – take a good rest during the weekend and roll up your sleeves during the week.
Tip 6. Apply only to most recent jobs
If you don't want to waste your Connects, look for the most recent jobs only.
If a job is posted a day ago, chances are that the client has received lots of proposals and is not even going to take a look at your proposal.
This is why you only have to apply to the most recent jobs.
For this, you can reload your feed to get the most recent ones. And if you don't get any relevant information on your feed, you can use the advanced search.
Look for specific keywords. Narrow down your search terms. For example, look for words like "logo", "photoshop"" or other skills," not the name of your profession.
Filter your search results and choose your preferences. I would only change the Number of Proposals to Less than 5.
I want to make sure the competition is not very high. If you are going to look for jobs with that keyword, save your search results.
They will appear on your homepage, on the left.
Tip 7. Communicate the clients prior to work
Before you apply to the job, contact the person, communicate with them, understand if they are scammers or really good clients who can give you a 5-star rating.
One thing I'd like to highlight here is -don't ignore Payment Unverified clients. Because these clients are new to UpWork.
The risk is that they might give you negative feedback and stuff.
After that, read the job description carefully. Don't submit a proposal only because the title seems the perfect fit for you.
Remember that not all the clients are professionals and sometimes they don't even understand what you do as a designer or a developer.
This is why reading job descriptions and communicating with them is important.
Also you need to check information before you submit your proposal
Then check out the skills the client mentioned in the job description, Preferred qualifications to see if you meet the client's needs and activity on this job section to understand if the competition is high and if the client is interviewing other freelancers.
Jump to the client information section and check out the client location, the average amount they paid to other freelancers and feedback they received and gave.
Ok, so if you think that this job is a really good fit for you, go ahead submit a proposal, write a great cover letter.
Tip 8. Use your own personalized template
Now listen to me carefully – Never EVER use a template cover letter
DON'T you dare! Never do this.
Personalize each and every cover letter. Because the client doesn't want to "know you have thousands of years of experience.
What they know is whether or not you can help them with what they need.
"Here's a great example: When I was looking for a content writer for my blog, I also posted a job on UpWork.
I stated that I am a blogger, the type of content that I make and I stated that "My most important requirement is to be available during weekdays"
Do I want you to tell me you have thousands of years of experience? Or do I want you to tell me that you can help me and you'll be available during the week?
Here's the best choice every client would go with "Hello, I am available during weekdays." or "I have 6 years of experience in content writing"..
My first reaction is to interact with this person. This is the type of proposal that I want to see as a client.
Just two sentences and I already want to hire this person. This is what the clients want to do.
If you have previous relevant job experience, you can also give links in your cover letter.
Tip 9. Stay Active
If you're just starting off, you need to stay active quite often to check the recent jobs available. After completing and setting up your profile, you need to stay active and grab the jobs as early as possible.
Many people will come out and they may bid prior to you. So, you might lose the chance. Remember there are lot of competitors out there.
Even if you don't get work, you need to be active. It might takes time to get your first job on upwork but trust me its worth it.
Always keep on updating your profile and create proposal which fits clients and job requirements.
Tip 10. Create Sample work
Creating or sending sample works is best if you wish to gain and grab more clients. 
Clients often prefer freelance who always sent them free demo work or sample work to check if you're the right for them.
It's a good options as you'll get the idea if your skills and work meets their requirement. So, try creating more sample for your work and sent them along with your proposal.
Bonus Tips  
If you want to be recommended by UpWork to other clients who are looking for freelancers with the same experience, look for short-term jobs.
You will quickly close contracts and get good feedback with the skills you want and UpWork will give you more chances to appear in the search.
And if you submit a proposal, your proposal will be seen at the first top ten results.
This is basically everything that you have to know about getting your first job on UpWork with no experience.
And The best part about Upwork is joining is absolutely free and you can work for any type of jobs depending on your skills may be data entry jobs, transcription jobs and a lot others.
Hope you get a clear idea on how can stand out and get your first job on Upwork with no experience. Follow my tips and comment down if its useful for you. All the best !!